Reading Time:
5
minutes
No one single medication will cure everyone with binge eating, but there is a growing awareness around the potential for drug therapies to help.
Binge eating is defined as eating a very large volume of food in a short period, while at the same time experiencing a sense of loss of control. It is one of the core symptoms of binge-eating disorder (BED) and bulimia nervosa (BN) but is also experienced among many without a clinically diagnosed eating disorder.
Binge eating is important to treat because it can lead to many negative medical, psychological and social consequences.
Dominant Treatments for Binge Eating
By far the most widely studied treatments for binge eating are psychological.
Psychological treatments for binge eating typically involve addressing the underlying thoughts, feelings, and behaviours that can contribute to binge eating, with the assumption that targeting these will break down the binge eating cycle.
For example, cognitive-behavioural therapy – the recommended treatment of choice for binge eating – helps individuals to better structure their eating patterns, change their faulty beliefs about body image, and implement adaptive coping strategies when faced with distress.
Similarly, interpersonal therapy – another recommended treatment for binge eating – aims to target binge eating by teaching people effective interpersonal skills, as it is theorized that interpersonal conflict is an important trigger for binge eating.
While psychological treatments like these have been proven effective for binge eating and related problems, a lot of people don't find them particularly useful and need something else. In fact, a recent meta-analysis found that more than 50% of people with binge-eating disorder do not recover after receiving cognitive-behavioural therapy 1Linardon, J. (2018). Rates of abstinence following psychological or behavioral treatments for binge-eating disorder: Meta-analysis. International Journal of Eating Disorders, 1-13. doi:10.1002/eat.22897.
Are Drugs the Answer?
Perhaps some people don't want to talk about their problems and would instead prefer to take a drug to help them overcome binge eating?
While we are not yet at a stage where one single treatment will cure everyone with binge eating, there is a growing awareness around the potential for drug therapies to help with eating problems like these.
However, it is important to note that the evidence base for drug treatments is still in its infancy, so we cannot yet draw any strong conclusions about their long-term efficacy, safety, and dissemination.
In fact, in America, the only drugs to have been approved by the FDA for the treatment of binge-eating disorder and bulimia nervosa are Lisdexamfetamine and Fluoxetine, respectively.
Let's take a look at the different classes of drugs that have been examined to treat binge eating.
Antidepressants
Antidepressants have been examined as a treatment for binge eating for a number of reasons. Antidepressants have been found to reduce binge eating in BN, and they are effective for many disorders that frequently occur with BED such as major depressive disorder, generalized anxiety disorder, and obsessive-compulsive disorder. In addition, antidepressants target neurotransmitters that are theorized to be disrupted in BED, including dopamine and norepinephrine.
Based on existing research, potentially effective antidepressants include Fluoxetine, Miansain, Trazodone, and Bupropion.
A meta-analysis of randomized clinical trials found that the combination of selective serotonin reuptake inhibitors (SSRIs) were more effective than placebo-control conditions, with remission rates reported to be 40% for SSRIs versus 22% for placebo2Stefano SC, Bacaltchuk J, Blay SL, et al. Antidepressants in short-term treatment of binge eating disorder: systematic review and meta-analysis. Eat Behav 2008;9(2):129-36.
There is also evidence that greater dosages of SSRIs result in better outcomes. In the largest study of antidepressants for bulimia nervosa, the authors found that 60 mg/d of fluoxetine was associated with larger effect sizes for reducing binge eating and purging episodes than both a placebo control and 20 mg/d fluoxetine3FBNCSG. Fluoxetine in the treatment of bulimia nervosa. A multicenter, placebo-controlled, double-blind trial. Arch Gen Psychiatry 1992;49:139-47.
However, there are possible side effects associated with antidepressants for binge eating. Some studies have reported an increase in seizures, rapid weight gain, and other medical complications 4Stefano SC, Bacaltchuk J, Blay SL, et al. Antidepressants in short-term treatment of binge eating disorder: systematic review and meta-analysis. Eat Behav 2008;9(2):129-36
The reasons for this are unclear.
Antiepileptic drugs
Like antidepressants, many factors led to the investigation of antiepileptic medications for binge eating. Antiepileptics are prescribed to treat psychiatric disorders more often than they are prescribed for epilepsy, and many of the disorders that respond to these drugs frequently occur comorbidly with binge-eating disorder, including mood and substance use disorders.
The most widely studied antiepileptic drug for binge eating is topiramate.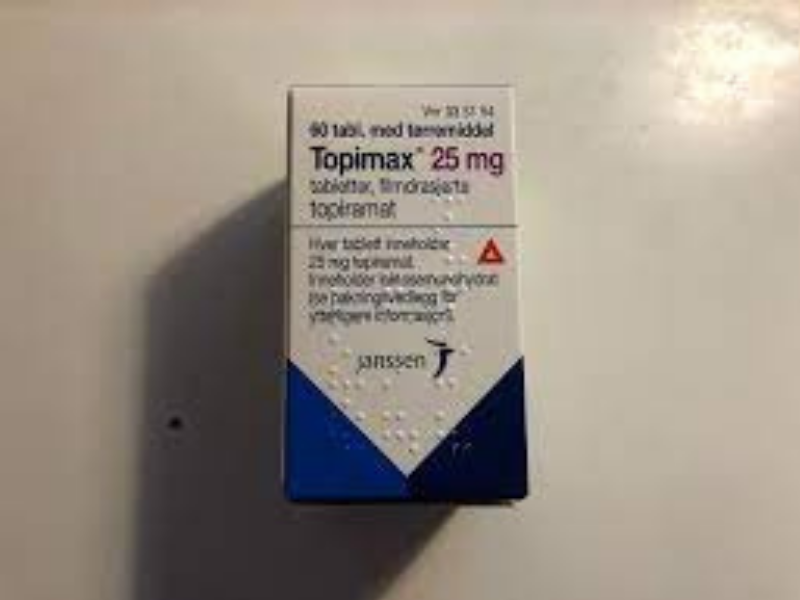 Topiramate has shown to be effective in several studies with bulimia nervosa. One study of 69 patients with bulimia nervosa found that topiramate (median dose 100 mg/d) was superior to a placebo in reducing the frequency of binge-purge days, and extreme concerns with eating, shape, and weight. This study also showed that the remission rate from topiramate was 52% compared to the 24% observed in the placebo group5Hoopes SP, Reimherr FW, Hedges DW, et al. Treatment of bulimia nervosa with topiramate in a randomized, double-blind, placebo-controlled trial, part 1: improvement in binge and purge measures. J Clin Psychiatry 2003;64(11):1335-41.
A similar trend has also been found in binge-eating disorder. In one large RCT of 407 patients with BED, 300 mg/d of topiramate was also superior to a placebo condition in producing remission from binge eating (58% versus 29%) at 16-week follow-up. Improvements in impulsivity, anxiety symptoms, and quality of life were also noted 6McElroy SL, Arnold LM, Shapira NA, et al. Topiramate in the treatment of binge eating disorder associated with obesity: a randomized, placebo-controlled trial. Am J Psychiatry 2003;160(2):255-61 .
Like antidepressants, however, topiramate may also come with side effects, such as paresthesia, upper respiratory tract infection, somnolence, and nausea.
Topiramate is the only antiepileptic drug to have been investigated in more than one clinical trial. Other antiepileptic drugs that have shown to improve binge eating, but have only been studied in one clinical trial, include zonisamide, lamotrigine, and phenytoin.
Antiobesity agents
Given the close overlap between binge eating and obesity, many have thought that anti-obesity medications could help people manage their binge eating.
Orlistat, an approved weight loss medication, has been studied in relation to binge-eating disorder. Orlistat promotes weight loss by partially inhibiting dietary fat absorption.
Orlistat has resulted in remission rates as high as 64% in some clinical trials7Grilo CM, Masheb RM, Salant SL. Cognitive behavioral therapy guided self-help and orlistat for the treatment of binge eating disorder: a randomized, double-blind, placebo-controlled trial. Biol Psychiatry 2005;57(10):1193-201 .
However, it appears that the effects are short-lived; people don't seem to sustain their improvements over longer periods.
There are not many other anti-obesity medications available to help with binge eating. One other drug that is being trialled for use in binge-eating disorder is Phentermine. However, there are no published clinical trials of Phentermine at the moment, and open-label studies of Phentermine have produced very mixed results 8Alger SA, Malone M, Cerulli J, et al. Beneficial effects of pharmacotherapy on weight loss, depressive symptoms, and eating patterns in obese binge eaters and non-binge eaters. Obes Res 1999;7(5):469-76 .
Based on this, there is limited evidence for the role of antiobesity drugs in treating binge-eating disorder.
Anti-Craving Drugs
Given that binge eating may resemble craving-like symptoms, researchers have begun testing whether certain anti-craving medications can help with these problems.
The results overall have been mixed.
Clinical trials of bulimia nervosa and binge-eating disorder have evaluated the effectiveness of naltrexone, an opioid antagonist. These two trials found limited evidence for naltrexone's effectiveness alone, but a follow-up study showed that administering it in combination with an antidepressant may reduce binge eating 9Raingeard I, Courtet P, Renard E, et al. Naltrexone improves blood glucose control in type 1 diabetic women with severe and chronic eating disorders. Diabetes Care 2004;27(3):847-8 .
Similarly, one trial evaluated the effectiveness of Acamprosate and found that this medication was not associated with reduced binge eating frequency across the 10 weeks 10McElroy SL, Guerdjikova AI, Winstanley EL, et al. Acamprosate in the treatment of binge eating disorder: a placebo-controlled trial. Int J Eat Disord 2011;44(1):81-90 .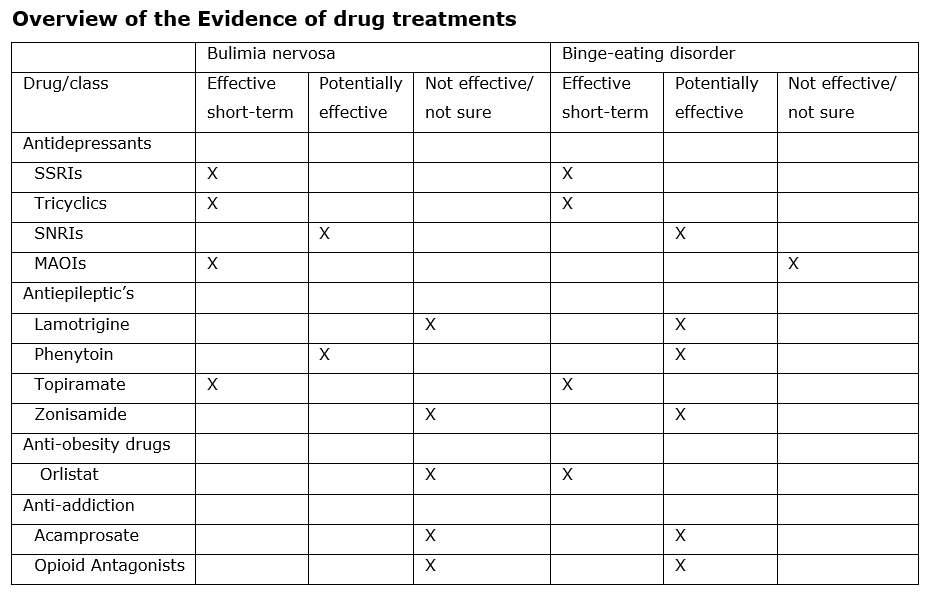 So can drugs and medications help with binge eating disorder?
Drug therapies may help several people with binge eating, but we are still in the early days of testing their effectiveness.
It's important to note that drug therapies come with side effects, some of which can be severe to the individual.
It is recommended by clinical guidelines from all over the world that psychological therapy be the first option for people with binge eating. Drug therapies are usually one of the last options in this population, largely because we don't know a whole lot about the longer-term effects of these drugs.