Reading Time:
5
minutes
It's more than likely that when you think about eating disorders, and bulimia nervosa in particular, you automatically picture a young girl.
Although many more women are affected by eating disorders, more and more evidence is beginning to suggest that this gender gap is closing.
Men are catching up – and catching up fast.
Unfortunately, men often get neglected when we discuss serious and life-threatening eating disorders like bulimia nervosa.
We need to change this.
And to do so, I'm going to discuss all you need to know about bulimia in men, including its signs and symptoms, prevalence rates, and treatment approaches and their effectiveness.
Signs and Symptoms of Bulimia Nervosa in Males
Before getting into the specifics of bulimia in males, it's first important to quickly review what the formal diagnostic criteria for this eating disorder are.
According to the DSM-5, a person will meet the criteria for bulimia nervosa if they meet each of the following: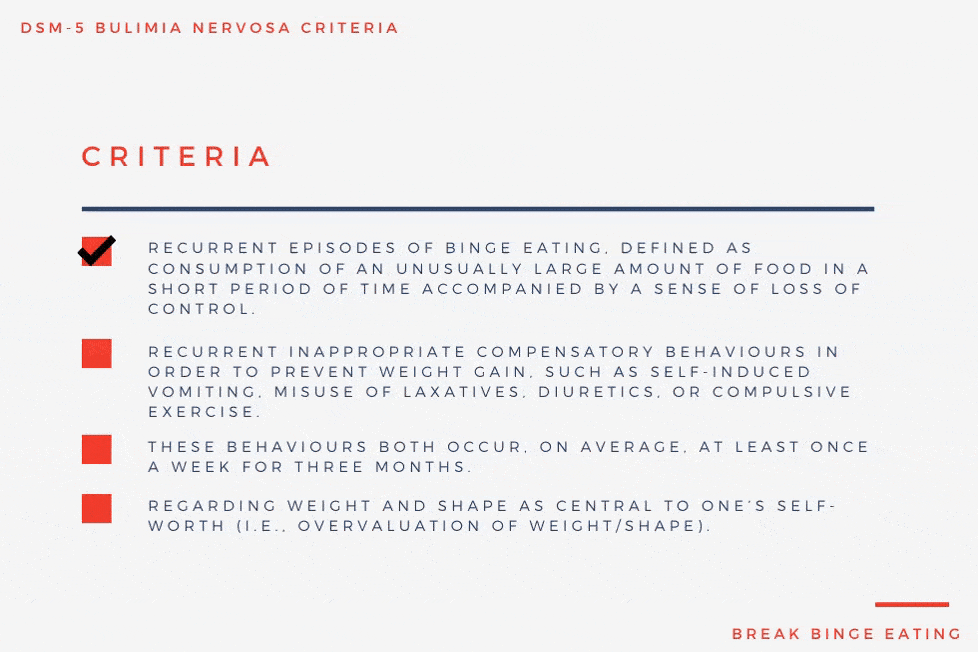 Recurrent episodes of binge eating, defined as consumption of an unusually large amount of food in a short period of time accompanied by a sense of loss of control.
Recurrent inappropriate compensatory behaviours in order to prevent weight gain, such as self-induced vomiting, misuse of laxatives, diuretics, or compulsive exercise.
These behaviours both occur, on average, at least once a week for three months.
Regarding weight and shape as central to one's self-worth (i.e., overvaluation of weight/shape).
It's important to point out that these criteria apply to both men and women.
However, that's not to say that men and women express their symptoms of bulimia nervosa in exactly the same manner.
Let's take a look at some differences between men and women who have bulimia nervosa.
The overvalued ideals about the personal importance placed on weight and shape differ across sex; men tend to equate their self-worth on their muscularity and ability to control it, while women tend to equate their self-worth on thinness.
The behaviours that stem from overvaluation of weight/shape are expressed quite differently; men tend to abuse anabolic steroids and other muscle-building supplements, while women tend to engage in severely restrictive diets.
Compulsive exercise behaviours tend to differ; men tend to spend a lot of time in the gym building muscle, while women are more likely to engage in cardiovascular training.
Women are much more likely to engage in subjective binge eating episodes (i.e., loss of control eating of food that isn't a large amount) than men.
Males with bulimia nervosa are more likely to report a greater array of psychiatric comorbidities (e.g., substance use, psychotic symptoms).
These are the more obvious differences in signs and symptoms of bulimia nervosa in men and women.
There are a bunch of similarities as well.
For example, we know that the degree of psychosocial and quality of life impairment is essentially the same in both men and women 1Murray, S. B., Nagata, J. M., Griffiths, S., Calzo, J. P., Brown, T. A., Mitchison, D., … & Mond, J. M. (2017). The enigma of male eating disorders: A critical review and synthesis. Clinical Psychology Review, 57, 1-11.
These slight differences in the presentation of bulimia nervosa have important implications for how we can effectively treat the disorder.
Let's turn our attention to the key statistics of male bulimia.
Key Statistics
There are many things we know about bulimia in men.
The following bullet points present the more important statistics we should be aware of.
Treating Men with Bulimia Nervosa
At the moment, there's little research been done on evaluating treatments for bulimia nervosa in men specifically.
In almost every research study on bulimia treatments, there's only a small proportion of participants who are men.
This makes it difficult to see what does and doesn't work in treating male bulimia.
Fortunately, gender doesn't predict how well people do in bulimia nervosa treatment, so we have little reason to suspect that the treatments that work well for women don't also work well for men.
Let's briefly recap some of our effective bulimia nervosa treatments
Cognitive-Behavior Therapy
CBT is currently the best available treatment for bulimia nervosa.
This treatment essentially uses a collection of different strategies designed to target the factors that are maintaining bulimia nervosa.
These factors are an overvaluation of weight and shape, extreme weight control behaviours, and dietary restraint.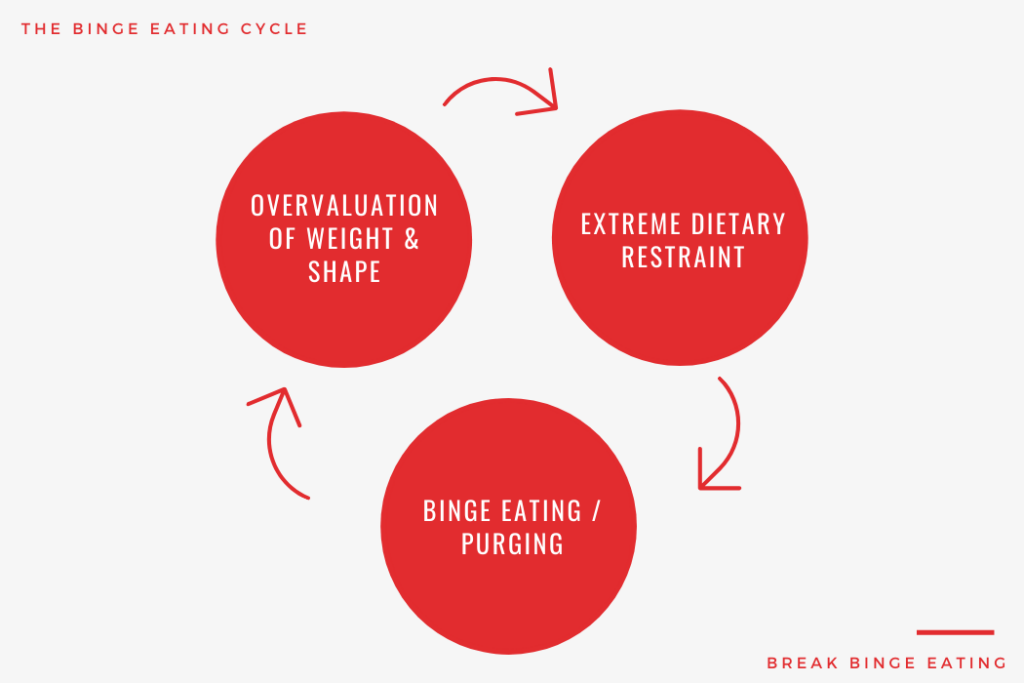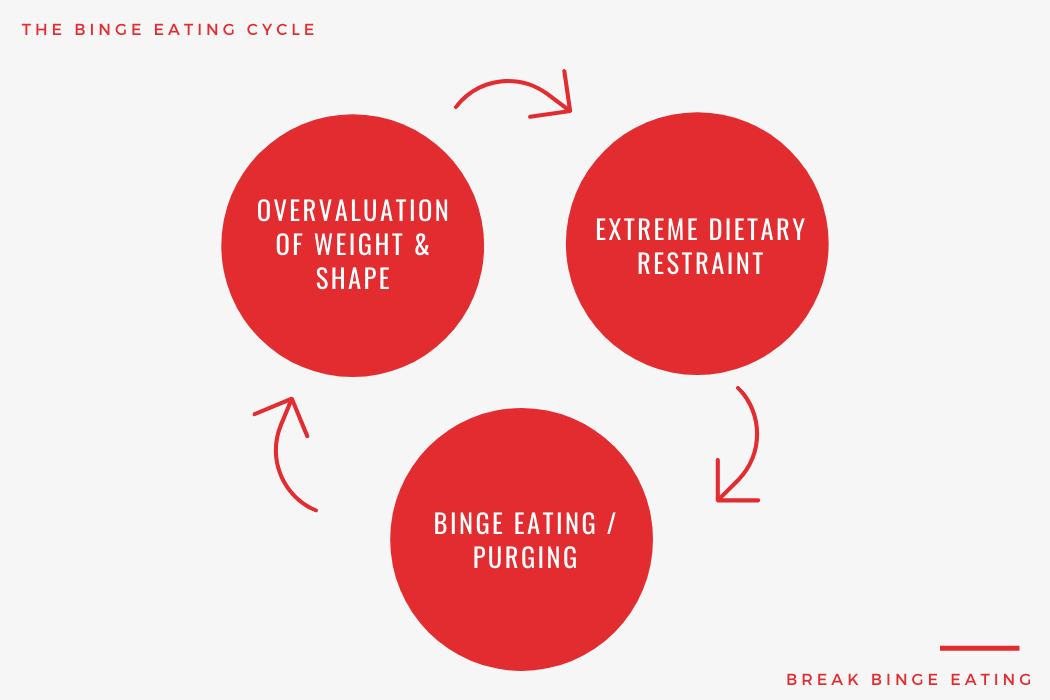 Some of the core CBT strategies include:
Self-monitoring
Regular eating
Problem-solving
Cognitive restructuring
Relapse prevention
One recent study examined the effectiveness of CBT for men with bulimia nervosa 9Agüera, Z., Sánchez, I., Granero, R., Riesco, N., Steward, T., Martín‐Romera, V., … & Menchon, J. M. (2017). Short‐term treatment outcomes and dropout risk in men and women with eating disorders. European Eating Disorders Review, 25(4), 293-301.
They found that 47% of men achieved full recovery while 12% achieved partial recovery.
In addition to this, men who were more persistent with their recovery were more likely to achieve it, showing that motivation to change could be an important factor helping men to recover.
Interpersonal Psychotherapy
IPT is another effective treatment for bulimia nervosa, but it takes much longer to work than CBT.
At the moment, there's no data available on the effectiveness of IPT specifically for men, but we know that around 40% of women with bulimia recover following IPT 10Linardon, J., & Wade, T. D. (2018). How many individuals achieve symptom abstinence following psychological treatments for bulimia nervosa? A meta‐analytic review. International Journal of Eating Disorders, 51(4), 287-294.
IPT assumes that peoples' social relations can be a cause of bulimic symptoms, so IPT helps people to develop more effective, healthier social relationships, with the prediction that this will eventually stop people from binge eating and purging.
Dialectical Behavior Therapy
DBT is not too dissimilar from CBT.
However, rather than trying to challenge the validity and content of peoples' maladaptive thoughts, DBT really focuses on helping people to develop healthy coping strategies to negative moods.
DBT assumes that binge eating/purging result from an inability to properly handle negative mood states.
Thus, teaching people healthy, adaptive coping strategies should be effective in targeting the disorder.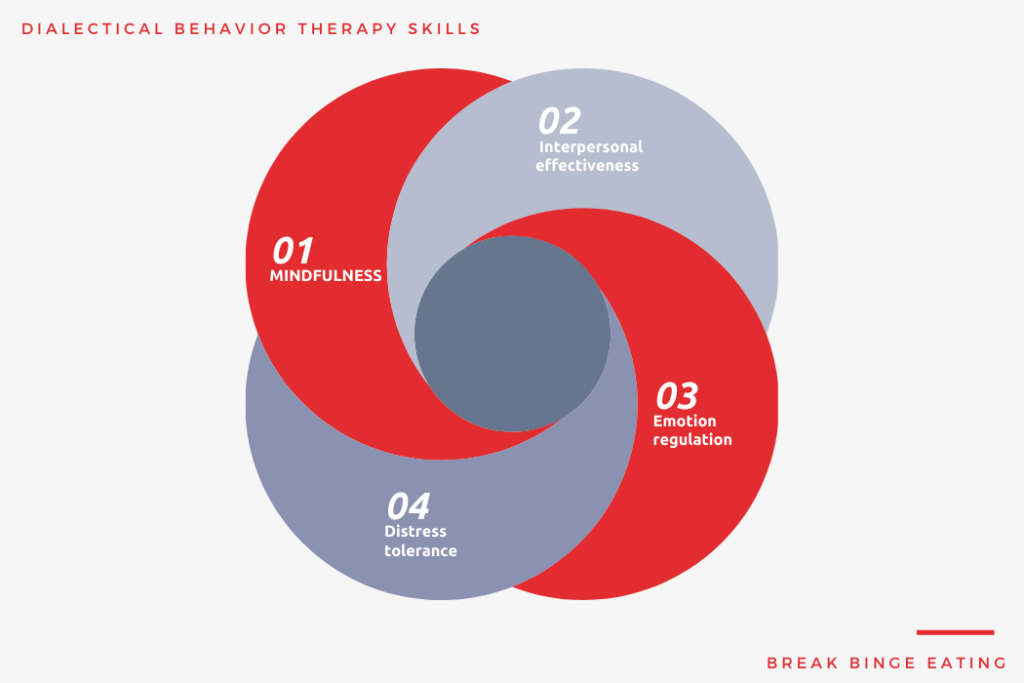 Like IPT, there's no data on the effectiveness of DBT for men.
We know that around 40-50% of women recover from DBT, so this may be an estimate we can assume applies to men too [Linardon, J., & Wade, T. D. (2018). How many individuals achieve symptom abstinence following psychological treatments for bulimia nervosa? A meta‐analytic review. International Journal of Eating Disorders, 51(4), 287-294].
Clearly, we need to devote more time towards studying bulimia nervosa treatments in men.
We've made some impressive progress towards understanding bulimia in men recently, but we've still got a long way to go!