Reading Time:
8
minutes
If you're reading this, chances are that you might be searching for some appropriate treatment options for yourself or for a significant other that is struggling with an eating disorder.
My goal is to provide you with all you need to know about eating disorder treatments so that you can make a careful, balanced decision around what you might or might now want to pursue in the future.
Let's begin by providing an overview of common psychological treatment options and their efficacy.
Psychological Treatment Approaches
One of the more common questions I get asked is;
"How are eating disorders treated?"
When someone with an eating disorder is seeking treatment, it's more than likely that they'll be referred to receive some form of psychological treatment. This basically means that they'll spend one on one time talking to, and strategizing with, a psychologist, psychiatrist, or other mental health professional.
There's good reason for being referred to psychological treatment first-up.
This is because psychological approaches are by far the most widely studied treatments, far more than medical treatments.
In fact, the evidence is overwhelmingly in favor of psychotherapies over pharmacotherapies.
Personally speaking, if you're seeking help for an ED, your first point of call should be a psychological rather than a medical approach.
Let's dive into some of the more common face-to-face psychological treatment approaches.
Cognitive-Behavioral Therapy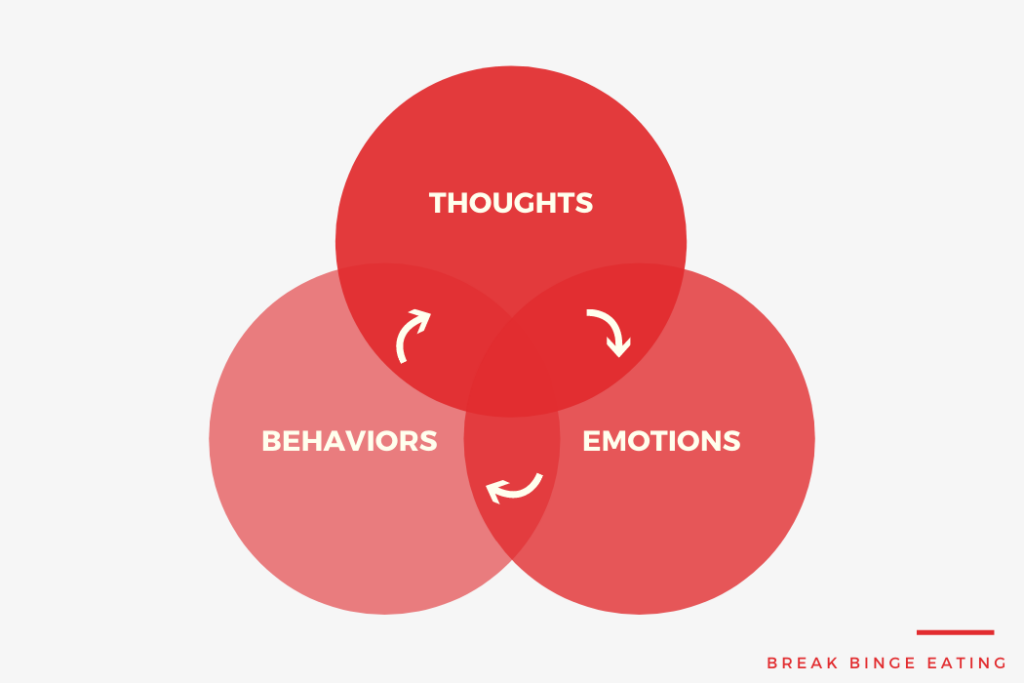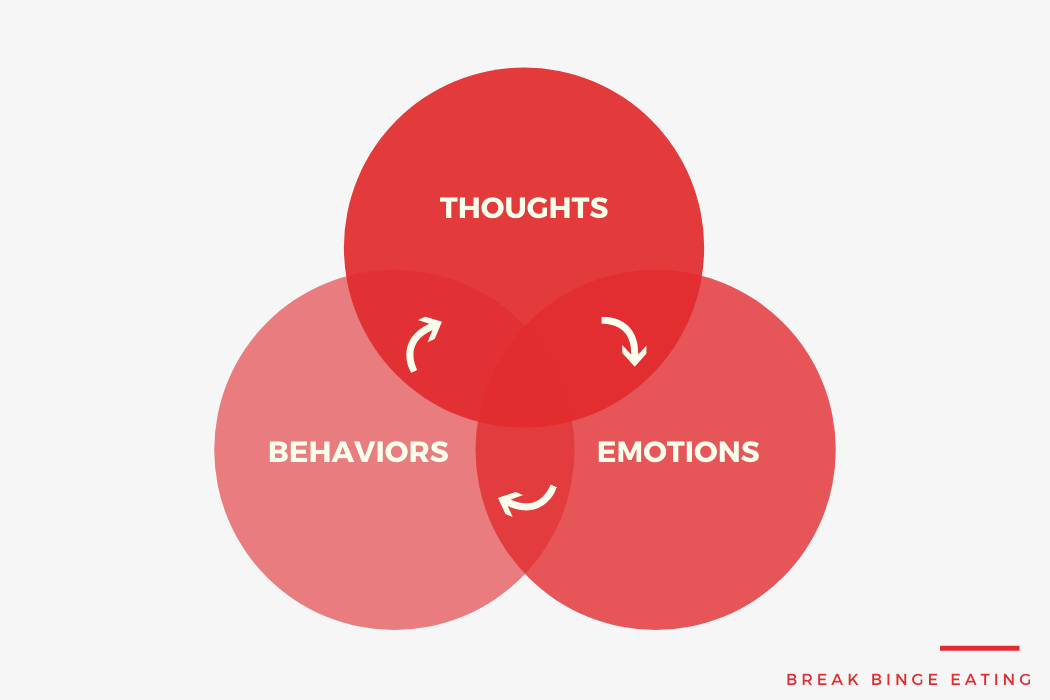 If you've ever received treatment for an ED or other mental health problem, chances are you've received some form of cognitive-behavioral therapy (CBT).
This isn't a bad thing, by the way.
All over the world, CBT is considered the first-line treatment for all non-underweight eating disorders, including bulimia nervosa, binge-eating disorder, and the other specified feeding or eating disorders 1]Hilbert, A., Hoek, H., & Schmidt, R. (2017). Evidence-based clinical guidelines for eating disorders: international comparison. Current Opinion in Psychiatry.
More recently, too, cognitive-behavioral therapy is also considered to be one of many appropriate treatment options for AN 2]National Institute of Clinical Excellence. (2017). Eating disorders: Recognition and treatment. Available at: www.nice.org.uk/guidance/ng69.
But what actually is cognitive-behavioral therapy?
Broadly speaking, CBT is packaged up into multiple therapeutic techniques that try to target the cognitive, behavioral, and emotional factors that maintain the eating disorder cycle.
There are quite a few maintaining factors, though it's important to note that not everyone will exhibit all of these maintaining factors.
The maintaining factors cognitive-behavioral therapy address are:
Overvaluation with weight and shape
Rigid dietary restraint and restriction
Poor emotion regulation
Perfectionistic tendencies
Low self-esteem
Addressing the relevant maintaining factors, according to CBT, should be enough to stop the eating disorder cycle altogether.
Some of the core techniques used in CBT to tackle these maintaining factors include:
Regular, supervised weighing
Prescription of regular eating
Self-monitoring
Cognitive restructuring
Relapse prevention
Problem solving and mindfulness meditation
So, is cognitive-behavioral therapy effective?
There's good evidence supporting the efficacy of CBT.
Let me briefly summarize the key findings from treatment outcome studies of CBT, many of which have come from my personal published meta-analyses.
CBT has been shown to be substantially more effective than control conditions (waiting list, pill placebo) for all EDs.
In the short-term, CBT for bulimia nervosa and binge-eating disorder is more effective than other specialist psychological treatments, like interpersonal psychotherapy, psychodynamic therapy, and non-directive counselling
Around 35% of people with bulimia nervosa who receive CBT make a full recovery
Around 50% of people with binge-eating disorder who receive CBT make a full recovery
CBT is not only effective in reducing ED symptoms, but it can also improve peoples' quality of life, reduce their depression, and enhance their self-esteem.
Sounds like everyone should be receiving cognitive-behavioral therapy?
Not quite.
CBT isn't a panacea.
There are many people who don't respond to CBT, find it too confronting, drop-out prematurely, or are in need of other treatments that take a different approach to targeting the illness.
You need to find what works best for you. It may take a process of trial-and-error, but in the end it will be worth finding out your perfect match.
Interpersonal Psychotherapy
Interpersonal psychotherapy (IPT) is another therapeutic approach that has been used to effectively treat binge-eating disorder and bulimia nervosa.
In fact, IPT is considered another treatment of choice for these particular eating disorder subtypes.
It has also been tested in people with anorexia, but with little success.
The main aim of IPT is to enrich the quality of social relationships in people with EDs.
The reason for this is that interpersonal problems are considered to be very important in contributing to various ED behaviors (e.g., binge eating, dietary restriction, purging).
Therefore, helping people with their social relationships may indirectly eliminate these behaviors in the process.
Some core strategies of interpersonal psychotherapy include:
Problem solving
Role play
Communication analysis
Assertive training
There has been a number of very well-conducted research trials on interpersonal psychotherapy, with key findings from these studies being 3]Wilson, G. T., Wilfley, D. E., Agras, W. S., & Bryson, S. (2010). Psychological treatments of binge eating disorder. Archives of general psychiatry, 67, 94-101. doi:10.1001/archgenpsychiatry.2009.170 4]Fairburn, C. G., Bailey-Straebler, S., Basden, S., Doll, H. A., Jones, R., Murphy, R., . . . Cooper, Z. (2015). A transdiagnostic comparison of enhanced cognitive behaviour therapy (CBT-E) and interpersonal psychotherapy in the treatment of eating disorders. Behaviour Research and Therapy, 70, 64-7:
IPT takes a lot longer to work than CBT, but by 2 years follow-up, IPT is equally effective to CBT for people
Roughly 1/4 of people with bulimia nervosa completely recover from IPT
Roughly 2/3 of people with binge-eating disorder completely recover from IPT
Only 17% of people with anorexia nervosa are said to have a good outcome from IPT
IPT is a good secondary approach, particularly if CBT fails. And, there's also some evidence to show that IPT is much better than CBT for people who have very low self-esteem.
Maudsley Model Anorexia Nervosa Treatment for Adults (MANTRA)
MANTRA is a relatively new treatment designed only for adults with anorexia nervosa.
It's not a treatment for binge-eating disorder or bulimia nervosa.
It is designed to be individually tailored to a clients presenting symptoms, personality traits, and neuropsychological profile.
MANTRA primarily focuses on targeting 4 core factors that are assumed to maintain anorexia nervosa:
A clients thinking style
A clients emotional/relational style
A loved ones' responses to the person with anorexia nervosa
Core beliefs about the utility of anorexia nervosa in the person's life.
While fewer studies have been conducted evaluating MANTRA, here are some common findings 5]Byrne, S., Wade, T., Hay, P., Touyz, S., Fairburn, C. G., Treasure, J., . . . Crosby, R. D. (2017). A randomised controlled trial of three psychological treatments for anorexia nervosa. Psychological Medicine, 1-11.
Nearly half of patients who receive MATRA will achieve a BMI above 18 and exhibit ED symptoms that do not differ to the general population.
MANTRA works just as well as specialist supportive clinical management and CBT
Dialectical Behavior Therapy
Dialectical behavior therapy (DBT) is growing in popularity. It's part of the "third-wave" cognitive behavioral therapies.
It's been used as a treatment for binge-eating disorder or bulimia nervosa, but it hasn't yet been tested in people with anorexia nervosa.
DBT's goal is to teach people better coping skills. This is because DBT assumes that binge eating and purging behaviors are a consequence of faulty emotion regulation strategies.
In other words, DBT teaches people to respond more appropriately or adaptively to feelings of anger, sadness, or loneliness (rather than resorting to indulgence or self-destruction).
There are three core modules embedded within dialectical behavior therapy for eating disorders:
Mindfulness module
Emotion regulation module
Distress tolerance module
What's the evidence for DBT?
DBT is better than nothing – it can lead to large and lasting improvements in ED symptoms for both binge-eating disorder or bulimia nervosa
More than half of people with binge-eating disorder who receive DBT will stop binge eating
More than a quarter of people with bulimia nervosa who receive DBT will stop binge eating and purging
Other Psychological Treatment Options
The treatment options listed above represent the main psychotherapy approaches used in people with EDs.
There are a number of other psychological treatments used that weren't discussed above, but show promise as effective treatments.
These treatments include:
Acceptance and Commitment Therapy
Mindfulness-Based Therapy
Compassion-Focused Therapy
Psychodynamic Therapy
Schema Therapy
I wouldn't recommend these approaches over the others just yet, particularly since we not sure about their effectiveness.
Over time, I'm confident we'll know a lot more about these treatments and whether they are effective, safe, and tolerable.
Pharmacological Treatment Approaches
Pharmacological treatments for EDs exist, yet they're used far less often than psychological treatments.
They're mostly used to treat binge-eating disorder and, to a lesser extent, bulimia nervosa, but there's little evidence for their efficacy in anorexia nervosa.
As with all treatment options, some people respond well to drug therapies, while others don't, yet some may do best with a combination of psychological and pharmacological treatments.
Unfortunately, however, we don't yet understand who is and who is not likely to benefit from pharmacological treatments.
Let's briefly take a look at the categories of drug treatments proven to be effective in binge-eating disorder and bulimia nervosa 6]Brownley, K. A., Berkman, N. D., Peat, C. M., Lohr, K. N., Cullen, K. E., Bann, C. M., & Bulik, C. M. (2016). Binge-Eating Disorder in Adults: A Systematic Review and Meta-analysis Annals of Internal Medicine, 165, 409-420. doi:10.7326/M15-2455:

Antidepressant Medications (for bulimia nervosa and binge-eating disorder)
Fluoxetine
Sertraline
Fluvoxamine
Antiepileptic Medications (for binge-eating disorder))
As you can see, there aren't many medications available to treat people with eating disorders. And the medications that have proven to be effective are only based on a small number of research studies.
It's not surprising, then, why few people with EDs get treated with pharmacotherapy.
Some Considerations for Seeking Eating Disorder Treatment
The treatments discussed above all have one thing in common.
They're all outpatient treatments.
However, ED treatments can take many other different formats, and selection of a particular format will depend on a whole host of factors like age of illness onset, severity of ED, ED subtype, or personal preferences.
I'd like to draw your attention to some other non-traditional treatment formats.
Inpatient Treatment
Inpatient treatment is more typical for extreme cases of AN, but it's also used for people with all other EDs who have several medical complications.
Inpatient treatments are usually multidisciplinary in nature.
This essentially means the person will receive care from many different treatment providers, including psychologists, psychiatrists, dietitians, nurses, and allied health care specialists. And because of this, the patient may receive a combination of many different psychological and pharmacological treatment approaches.
What's the evidence for inpatient treatments?
Unfortunately, not much.
A small number of uncontrolled studies have shown inpatient treatments to alleviate some symptoms of EDs and improve patients' quality of life.
Further, inpatients treatments may be a good option for the more severe cases that need urgent medical attention and constant monitoring.
Yet, very few controlled studies have been conducted on this format of treatment 7]Hay, P. J., Touyz, S., Claudino, A. M., Lujic, S., Smith, C. A., & Madden, S. (2019). Inpatient versus outpatient care, partial hospitalisation and waiting list for people with eating disorders. Cochrane Database of Systematic Reviews, (1).
Self-Help Approaches
Fewer than 25% of people with an ED have access to standard treatment.
The reasons for this large treatment gap are diffuse, and include:
Cost (treatment is too expensive)
Geographical constraints (people may not live near a treatment center)
Few adequately trained therapists
Stigma around seeking professional help
Privacy concerns
Fortunately, self-help approaches overcome these limitations and enable many more people with – or at risk of – an ED to seek appropriate care.
Self-help approaches involve treatments that are translated for delivery via books, the internet, or smartphone apps.
They are usually based on CBT principles, where people are taught, on their own, how to effectively implement the strategies known to alleviate ED symptoms.
Self-help approaches have been shown to "work" for all ED subtypes. But, they're most effective when they are supplemented with some level of professional support.
For example, nearly 1/4 of people with bulimia nervosa will completely stop binge eating and purging with a self-help program, while nearly 45% of people with binge-eating disorder will completely stop binge eating with a self-help program 8]Linardon, J. (2018). Rates of abstinence following psychological or behavioral treatments for binge-eating disorder: Meta-analysis. International Journal of Eating Disorders, 1-13.
Importantly, it doesn't matter whether the self-help program is delivered through a book, the computer, or your smartphone – choose what best suits your needs!
Of course, self-help is a good first-step, but it should never replace conventional face-to-face treatment with a professional.
People who can't access conventional treatment may be better suited to this intervention delivery mode.
Conclusions
Hopefully, this article answered some pressing questions you might have had on ED treatments.
As we've touched on, there is a heap of options available, and each seems to "work" to some extent.
While there is some evidence to suggest that some approaches work better than others, it's important that you find out what works best for you.